Halloween Rules
Look! Buddy Bill's afghan is finished! The final round was completed at knit nite last night. Details? Crochet granny square. Generic. Lots and lots and lots of Tatamy Tweed Worsted. At least 10 balls. I am amazed at how much more yarn crochet uses up compared to knitting. Size H hook. Nearly a month to complete.
Tonight the kids will go out begging for treats. Mayhem is a witch of sorts. Absent-Minded Professor is becoming one of those kids who doesn't dress up but goes begging anyway. He is only wearing camouflage pants and shirt and a camo bucket hat - you know, kind of like a guy from M*A*S*H. At my house, those kids get
Dum Dum
lollipops instead of chocolate. Really. (The same rule applies to adults who drag infants out trick-or-treating. Puhleeease! We know who will be eating that candy!) If you can't take the time and effort to come up with a costume, you don't get the good stuff. Some of the high school kids in the area, armed with only a pillow case and no costume, know to bypass my house because they have learned that I have two separate bowls and the unspoken rule of "no costume, no chocolate." I have heard them pass on wisdom to others, "Hey, don't go there. All you get is a retard sucker!"
Wait until you see the wonderful jack-o-lantern that has been carved for our yard! It's gonna look great all lit up in the dark.
Both kids have had colds for the past week and today it sidelined me. Absent-Minded Professor's cold is turning into something bigger and he may head to the doctor. Mayhem has turned the corner and is almost well. And me? Too soon to tell. I spent the day sleeping and getting a little TLC.
After three weeks away, I made it to
Insanknitty
last night. I'm back in the corner with Patti, Mary and Julie (another crocheter) finishing the afghan. (I stole this photo from Insanknitty blog! Shhhhhhh!)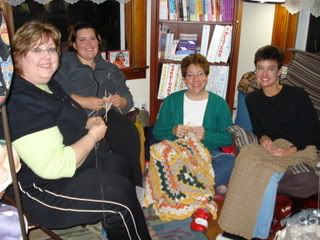 Stay warm, friends. It's supposed to get chilly!